VIOLA
Detached villa built on two staggered floors for 5-7 persons. Reserved access to the sea with private natural beach. A spectacular panoramic view of the Aegean sea.
THE NUMBERS
Villa Viola is structured on two staggered levels of 5 steps.
On the ground floor there is a living area (convertible with sofa beds),, a kitchenette and a large bathroom with a shower. Through internal staircase access to the upper loft located above the bathroom with 2 adult beds. Internal communication access door to the room that has two combinable beds, baby bed, traditional fireplace, kitchenette and bathroom with glass shower. All the rooms communicate with the shaded panoramic veranda equipped with external gas stove, sink tables and chairs. From the veranda access to the large terrace (solarium) equipped with tables, chairs and umbrellas from which you can enjoy an exceptional view!
People  max. :- 5 adults + 2 adults extra + 1 baby extra.
5 + 2 pax + 1 baby extra
      2 single bed joinable in bedroom
2 single bed joinable in loft
1 sofa bed
2 extra people in sofa bed
1 baby cot extra in bedroom
2 toilets
2 showers
2 kitchenettes
1 fireplace
5 + 2 pax e 1 baby extra
   2 single bed joinable in bedroom
   2 single bed joinable in loft
 1 sofa bed
 2 extra people in sofa bed
1 baby cot extra in bedroom
2 bagni
2 toilets
2 showers
1 fireplace
GROUND FLOOR
Convertible living area with sofa beds for 3 adults, typical island fireplace, kitchenette, bathroom with shower, wardrobe and chest of drawers. Access to the loft above the bathroom with two adult beds. In front of the entrance, a shaded porch with magnolia equipped with tables and chairs for all the occupants, an external gas stove and sink. Access to a large terrace (solarium) adjoining panoramic equipped with tables, chairs and umbrellas.
UPPER FLOOR
Both the external and inetrnal starcase on the veranda and in the convertible living leads to the bedroom with two combinable single beds.
kitchenette, traditional fireplace, bathroom with glass shower, wardrobe and chest of drawers.
for FAMILY GROUPS it is possible to join some of the Units of the SECRET SPORADES residence to form large apartments. All units within the property are easily accessible and enjoy panoramic terraces and balconies.
Inside the SECRET SPORADES private residence, there are common areas for group activities, private parties, yoga, meditation, dance and painting. A RELAX area with shady grove and lemon grove is also present
SECRET SPORADES offers to its guest a NATURAL PARK and a RESERVED ACCESS TO OUR PRIVATE COAST LINE with a spectacular view of the AGEAN SEA dotted with the islands of Evia, Skiathos and its islets, Mount Pelion and the village of Glossa with its small port of Loutraki.
On request it is possible to organize excursions to the most enchanting places to visit, small sea cruises to the neighboring islands or fabulous coastal docks otherwise inaccessible. Upon your arrival you will be described the most famous and interesting destinations.
Upon your arrival we will indicate you all the addresses for supermarkets, bars, taverns and anything else you might need for your stay including telephone support numbers. We will do everything possible to make you spend an unforgettable stay!
PANORAMIC TERRACES
Villa VIOLA has double access to its panoramic veranda equipped with an external gas stove as well as to the large adjacent sun terrace. Not far from the wood-burning BBQ available. On the Great Panaromic Terrace you can organize dinners, and private parties, often with local folk groups
reserved descent to the sea with access to our private coast
private access to the sea and private natural beach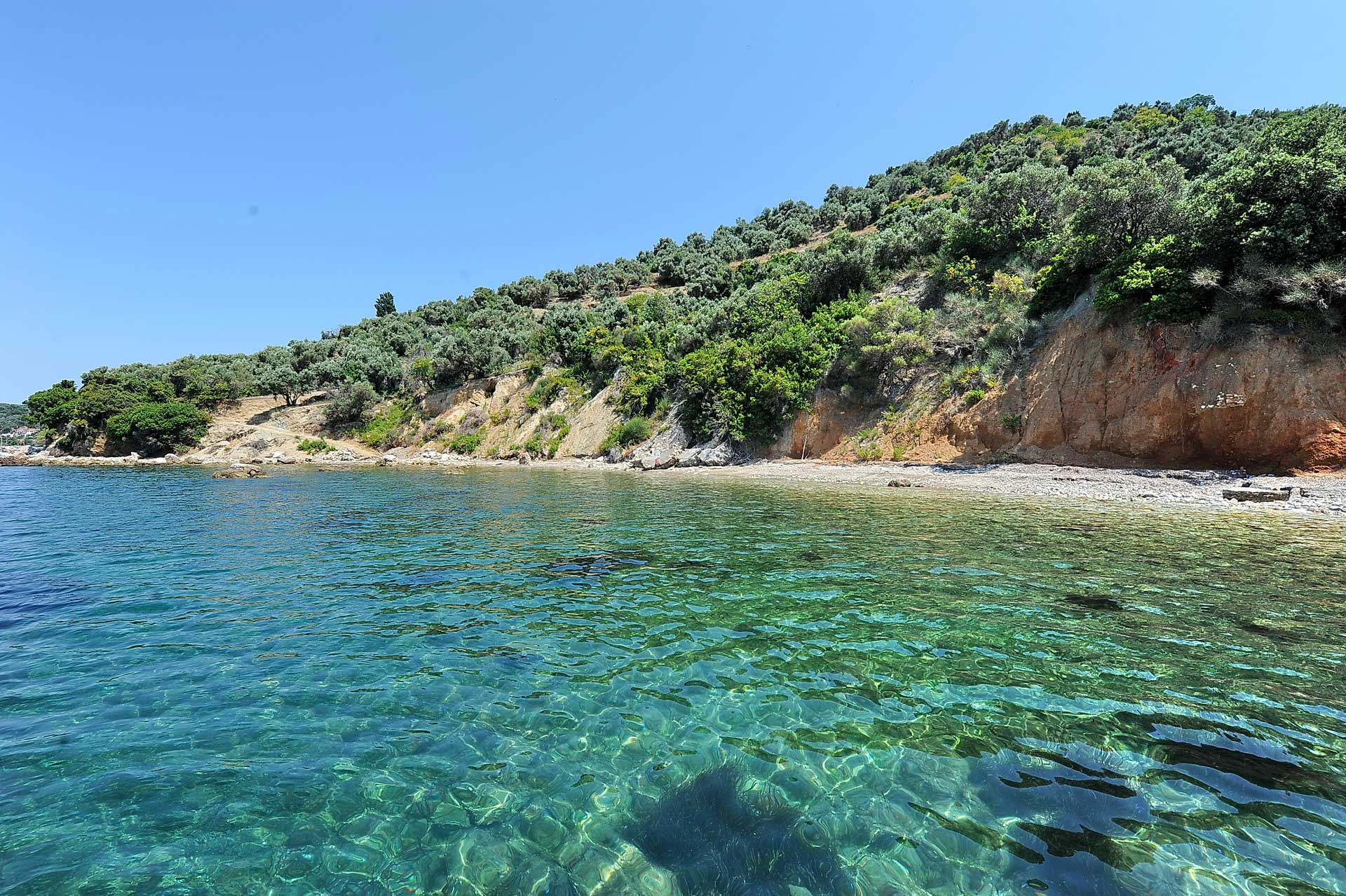 EQUIPMENT OF THE HOUSE
The house is equipped with everything you need to make your holiday special. Details of the amenities are listed in the table below
EQUIPMENT OF THE HOUSE
KITCHEN
placemats – chopping boards – corkscrews – can opener – large cutlery (for salads, cutlery, ladles) – cutlery set- colander – pots of pots with lids – set of breakfast cups- dish set (tops, bottoms, dessert) – glasses- coffee pot (moka) ) – electric kettle – dish towels – pot holders – under pots – salad bowl – strainer – grater – drainer – internal cutlery tray – citrus squeezer – toaster – refrigerator – electric cooker for breakfast – pantry, sink and wall units
BEDROOM
cushions – double or single sheets – wardrobe hangers – mattress covers – pillow covers. wardrobe – bedside tables –
BATHROOM
hairdryer – soap holder. toothbrush holder – towel holder – shelf with mirror – bathroom basket – toilet brush – electric water heater
CLOSET
– clothes roll – trash basket – broom – brush / mop – rag – ironing board
APPLIANCES
Wireless WI-FI – hairdryer – toaster – kettle – safety lamp – iron – shared washing machine – hot and cold air conditioning
TERMS AND CONDITIONS
before booking, take note of the following terms and conditions that apply to guests of the structure
TERMS AND CONDITIONS
BOOKING AND PAYMENT
30% of the total via Paypal or bank transfer name of MANLIO BERGAMINI on IBAN GR8801104710000047100237016 and BIC ETHNGRAA or by credit card, when accepted by the system, as a booking confirmation deposit. Only upon receipt of the deposit will the house and the requested period be blocked on behalf of the guest.
BALANCE:
70% within 30 days before arrival or via PAYPAL or with BANK TRANSFER on behalf of MANLIO BERGAMINI on IBAN GR8801104710000047100237016 and BIC ETHNGRAA or by credit card when accepted by the system; alternatively, balance on arrival during Check in, only with your confirmation of the date and time of arrival by e-mail, at least 30 days before.
Any early departures do not give the right to reimbursement.
Please note that we cannot accept checks.
PROMOTIONS:
Please click on the PROMOTIONS item on the Home Page to evaluate the current promotions during your booking.
RESERVATION CONFIRMATION:
Please always send an e-mail with a copy of your payment to the address: info@secretsporades.com to confirm your booking.
LINENS, CLEANING, CONSUMPTIONS
Linen changes: Once a week.
Extra linen change: € 15.00 / pax.
Cleaning: The house is delivered clean and must be returned clean.
Extra cleaning: € 15.00 / h.
Water / Electricity Consumption: Included in the price.
DAMAGES
Guests are responsible for any damage caused during the period of stay and missing material from the equipment provided at the beginning of stay
PETS AND OTHER ANIMALS
Pets allowed only after explicit agreement with the management of the propriety at the time of booking.
A supplement of € 50.00 is applied for final cleaning
Still undecided? Contact us!
Do not miss the chance of a wonderful holiday on one of the greener and pristine islands of Greece, leave your name, a message and the email address: we will answer all your questions.